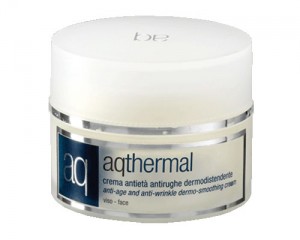 Anti-age and anti-wrinkle dermo-smoothing cream helps protect the skin from premature ageing via moisturization and reduces the appearance of wrinkles. Its specific moisturizing action is particularly indicated for dry skin with a desquamating tendency, and its smoothing effect makes it suitable for all skin-types.
Main ingredients: Spa water, vitamin A, vitamin E, liposomes containing elastin, natural derivative of hyaluronic acid, isoflavones from soya seed, carrageenan from Iceland moss, coconut oil, borage oil, musk rose oil, jojoba oil, wheat germ oil, sweet almond oil, avocado oil, olive oil, shea butter and vegetal glycerin.
Directions: Apply the cream in the morning and the evening to a cleansed face and throat and lightly massage in a circular manner until completely absorbed.
Buy