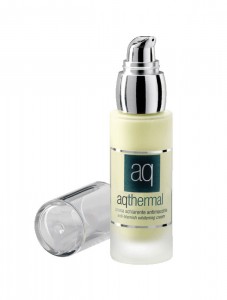 Anti-blemish cream is extremely effective in reducing the appearance of age spots caused by age and excessive sun exposure. It is suitable for use on the face, throat, neckline and hands.
Main ingredients: Spa water, natural kojic acid obtained by the natural fermentation of rice sugars, natural glycolic acid, arbutin, beta carotene, carrageenan from Iceland moss, avocado oil, wheat germ oil, sweet almond oil, musk rose oil, coconut oil and vegetal glycerin.
Directions: Apply the cream once or twice a day to the skin, insisting on the more blemished areas, gently massaging until completely absorbed. The effects of this cream will appear after approximately thirty days, i.e., the amount of time required for the superficial skin layer to renew.
Buy