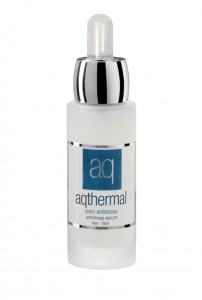 Anti-stress serum has intensive hydro-firming properties via moisturization for various types of skin stress. It makes the skin radiant, bright, relaxed and counters skin micro-tension and expression wrinkles, leaving it supple and firm.
Main ingredients: Spa water, natural derivative of hyaluronic acid, carrageenan from Iceland moss, alpha and beta-hydroxyacids from fruit, and vegetal glycerin.
Directions: Apply in the morning and the evening on perfectly cleansed face, neck and eye areas. Gently pat in a circular manner until completely absorbed. Suitable for use before other treatment.
Buy