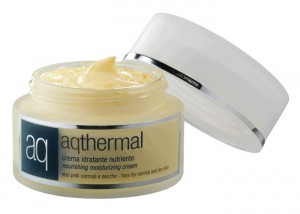 Nourishing moisturizing cream is especially indicated for normal and dry skin as it has nutritive, hydrating and softening properties due to its vegetal oil content which are a rich source of vitamins and minerals. Excellent as a base for make-up and for long-term protection from dehydration, it improves consistency and the skin appears radiant and smooth.
Main ingredients: Spa water, linden extract, musk rose oil, carrageenan from Iceland moss, coconut oil, jojoba oil, avocado oil, yarrow oil, wheat germ oil, sweet almond oil, olive oil, carrot juice, shea butter and vegetal glycerin.
Directions: Apply the cream in the morning and the evening to a cleansed face and throat and lightly massage in a circular manner until completely absorbed.
Buy