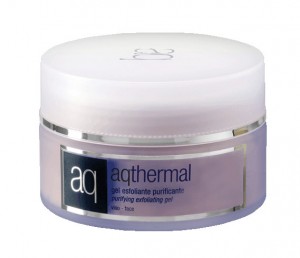 Purifying exfoliating gel makes the skin perfect and free from impurities by deep cleaning the pores, purifying the skin by removing dirt leaving the skin to feel energized and refreshed.
Main ingredients: Spa water, alpha and beta-hydroxyacids from fruit, ginkgo biloba extracts, Indian pennywort, grape seed extract, vitamin A, vitamin E, natural derivative of hyaluronic acid, distilled witch hazel water, aloe vera gel, lavender oil, tea tree essential oil, sweet orange essential oil, rice starch and vegetal glycerin.
Directions: Apply a smooth layer of gel to the face 1-2 times per week, avoiding the eye contour area. Leave for 5-10 minutes and then gently massage in a circular manner. Rinse off the micro-granules that have formed with plenty of water. Also suitable for the backs of hands that are greatly exposed to external aggression.
Buy