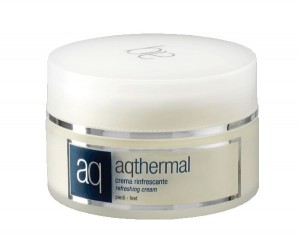 Refreshing foot cream provides an immediate fresh feeling and relief via moisturization for tired and swollen feet. It protects against and alleviates chapping, cracking and roughness due to dryness.
Main ingredients: Spa water, extracts of horsetail, horse chestnut, allantoin, propolis, carrageenan from Iceland moss, coconut oil, sweet almond oil, olive oil, essential oils of peppermint and camphor, shea butter and vegetal glycerin.
Directions: Apply the product to the feet and ankles in the morning and evening and massage gently or as required.
Buy