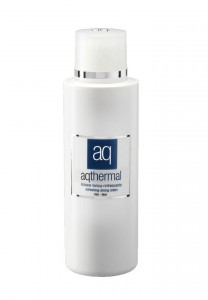 Refreshing toning lotion is free from alcohol and colourings. It purifies the skin by removing all traces of cleansing milk, is gently astringent on the pores, leaves the skin radiant and prepares it for successive treatments and make-up.
Main ingredients: Spa water, vitamin B2, vitamin F, azulene, extracts of echinacea angustifolia, burdock, horsetail and propolis, essential oils of eucalyptus and camphor, vegetal glycerin.
Directions: After using the cleansing milk in the morning and evening, apply the toning lotion with a dampened cotton wad and pat the face and neck while gently massaging.
Buy