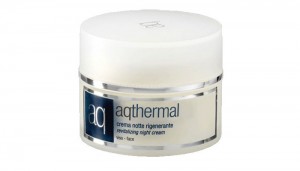 Revitalizing night cream increases natural skin cell renewal during the night. This intense nourishing action repairs daytime damage and in the morning the skin appears bright, refreshed, relaxed and radiant.
Main ingredients: Spa water, vitamin A, extracts of Ginkgo biloba, echinacea angustifolia and prickly pear, aloe vera gel, carrageenan from Iceland moss, coconut oil, jojoba oil, wheat germ oil, sweet almond oil, avocado oil, olive oil, musk rose oil, rice oil, shea butter and vegetal glycerin.
Directions: Apply the cream in the evening to a cleansed face and throat and lightly massage in a circular manner until completely absorbed.
Buy