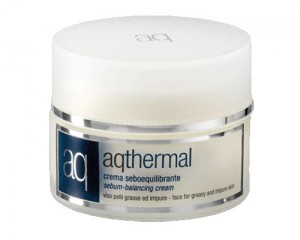 Sebum-balancing cream is an excellent daytime base-cream for oily skin with a seborrhoeic tendency and with impurities because it attenuates excess sebum secretion, provides a matt effect and makes the skin feel fresher.
Main ingredients: Spa water, burdock extract, gamma-oryzanol, d-Panthenol, alpha-bisabolol, copaiba resin oil, carrageenan from Iceland moss, musk rose oil, jojoba oil, sweet almond oil, wheat germ oil, avocado oil, coconut oil and vegetal glycerin.
Directions: Apply the cream in the morning and the evening to a cleansed face and throat and lightly massage in a circular manner until completely absorbed.
Buy