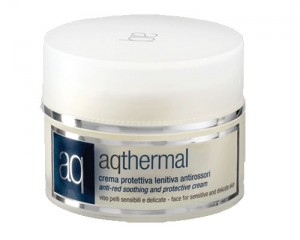 Soothing and protective cream soothes and protects the most fragile and delicate skin from the aggressive effects of sunlight, sudden temperature changes and wind. It maintains the skin's natural water balance, keeping it looking healthy and radiant and is also used to reduce redness due to dry, chapped or cracked skin.
Main ingredients: Spa water, extracts of bilberry, linden, witch hazel, chamomile, Indian pennywort, bisabolol, carrageenan from Iceland moss, jojoba oil, avocado oil, coconut oil, musk rose oil, olive oil, wheat germ oil, sweet almond oil, shea butter and vegetal glycerin.
Directions: Apply the cream in the morning and the evening to a cleansed face and throat and lightly massage in a circular manner until completely absorbed.
Buy